Copper Coil Without Fills Cross flow Cooling Tower
Copper Coil Without Fills Cross flow Cooling Tower
YUANHENG

CHINA

50 days

2 million tons of water
Copper Coil Without Fills Colsed-circuit Cross-flow Cooling Tower YCH is suitable for various kinds of cooling systems with high quality requirements of circulation water,widely used in electric power,chemical,steel,food and many other industrial sectors.

On the other hand,compared with air cooling heat exchanger,evaporative cooling tower has obvious advantages and makes transfer increase significantly by the tube side of latent heat of water vaporization
Copper Coil Without Fills Cross-flow Cooling Tower:
Features:
Copper Coil Without Fills Colsed-circuit Cross-flow Cooling Tower YCH suitable for various kinds of cooling systems with high quality requirements of circulation water,widely used in electric power,chemical,steel,food and many other industrial sectors.On the other hand,compared with air cooling heat exchanger,evaporative cooling tower has obvious advantages and makes transfer increase significantly by the tube side of latent heat of water vaporization.
Advantages:
1:Improve production effiiciency,soften water circulation ,no scaling,no blockage,and no loss:
2:Prolong the service life of equipment,secure equipment reliable and stable operation,reduce failure and prevent accidents.
3:Full closed circuit,no impurity enters,no medium evaporation,no pollution;
4:Improve the plant's utilization coefficent,no pool;reduce floor area,save pace.
5:Small space,convenient to install,move and arrange,compact structure;
6:Convenient operation,stable operation,high degree of automation;
7:Operation cost savings.a variety of automatically switched modes,intelligent control.
8:A wide range of uses,medium of no corrosion to the heat exchanger,dircet cooling.
9:Cooling tower operation and low maintenance cost.
Structure Diagram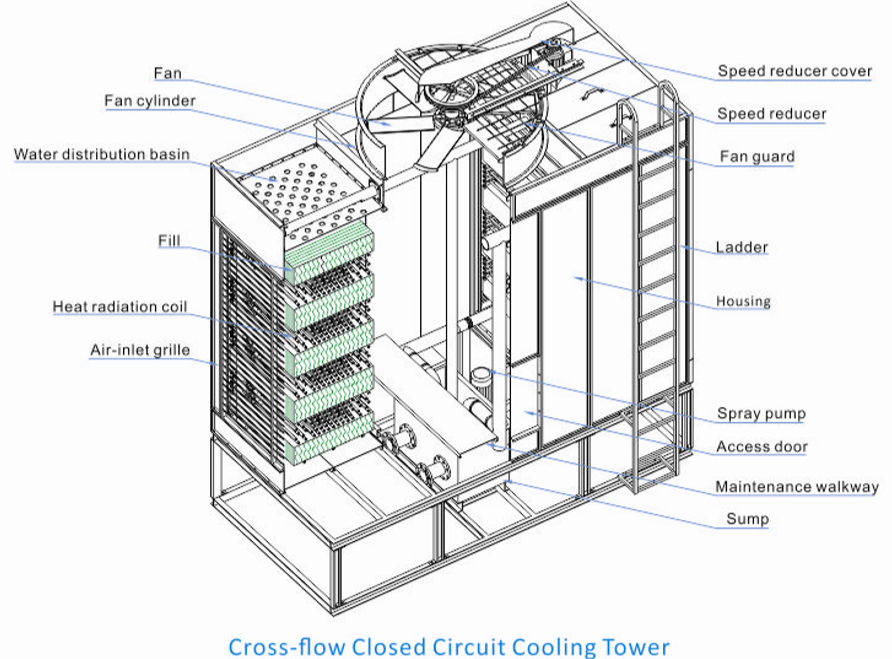 Data of Copper Coil Without Fills Cross-flow Cooling Tower YCH Series Parameters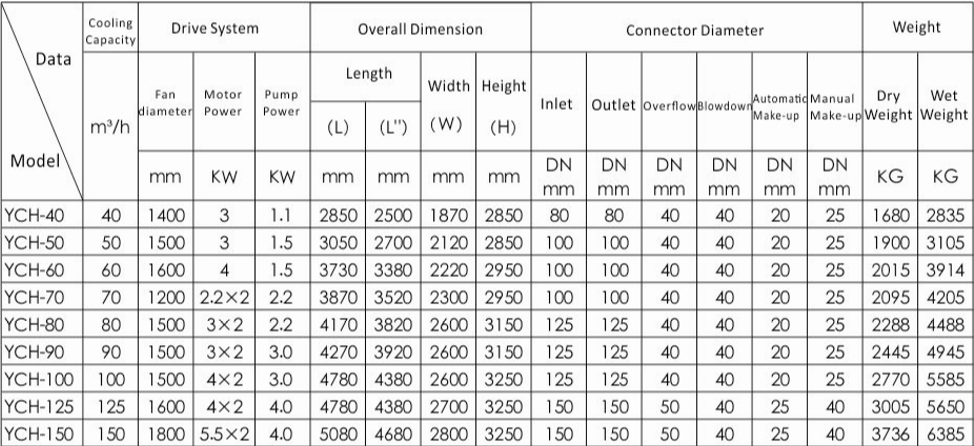 Remarks:
YCH-10-YCH-125:Complete assembly af factory and entire unit loaded into containers
YCH-150-YCH-250:Shipped with knock-down parts,and erected at site.
Foundation Data Sheet of Copper Coil Without Fills Cross-flow Cooling Tower YCH Series